When it is freezing, raining, snowing, windy or blistering cold you need extreme gear to keep hunting. The Cabela's MT050 Whitetail Extreme kit was designed exactly for that fridged task.  I have been hunting with the Cabela's MT050 Bibs and the Cabela's MT050 Parka for a few years in some of the worst conditions possible going after whitetail deer and waterfowl and I can vouch that it does what it was designed to do, and exceptionally well at that. It also works for pretty much any outdoor task in the dead of winter.
Why This Parka & Bibs?
I bought these with my own money after scouring every top cold weather gear option on the market, #NotSponsored. I didn't intend to buy this kit originally, but I landed here after doing alot of research. Check out my podcast episode All About Deer Hunting Bibs for more info on the research process and why some gear is worth the money while other gear is not.
You see I was getting cold while hunting whitetails on cold windy days. Not just uncomfortably cold, but sick. After the second or third round of illness one year I decided that toughing it out was no longer an option, I needed to find a way to get warmer. I figured quality gear was still cheaper than doctor bills.
I decided I needed bibs before the parka because my hunting pants were particularly sad and bibs still cover part of your core. I looked at everything I could find and I narrowed it down to my top three options.
The Cabela's bibs were not my first choice, the Sitka was. The First Lite was a close second. Cabela's came in third. So how did Cabela's win? One word, sales. Every year the Cabela's Bibs go on sale one or more times, as much as 30-40% off. Though it has been a long time since they were 40% off. But it is not uncommon to get them for $200. I waited until such a sale happened, I cashed in some point and Cabela's gift cards and ended up paying very little out of pocket for them. The bibs came in the mail and then something unexpected happened.
I opened the Cabela's Bibs, tried them on, and I was so impressed that I immediately ordered the Cabela's Parka as well. I didn't really even have the money to do it. I just knew based on how impressive the bibs were that I had to have the parka also. The Bibs won for me on price, their ability to keep me warm was close to First Lite and Sitka, but at half the cost they won the day. The parka won because of how good the Bibs were.
Features 
The moment I touched the MT050's they won me over. They were so soft and quiet, yet so substantial and protective. I felt like I was wearing a cross between a silk blanket and armor. Each piece is serious and weighs about 4 pounds. This is not early season gear. It has a very specific cold weather job to do.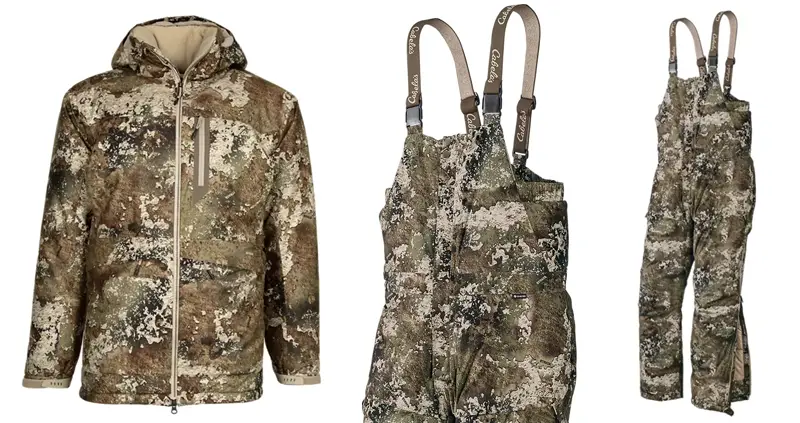 Bibs
Thinsulate™ Platinum Insulation: 150-gram through the midsection, 100-gram from the knees down and in the chest, 150-gram in the seat. 
100% windproof and waterproof but still breathable GORE-TEX shell

Aquaguard heavy-duty, water-resistant zipper hardware

MT050 fabric: quiet as fleece, tough as suede

Hip-high leg zips ensure easy on/off over layers or muddy boots.

The double-reinforced seat adds long-lasting durability. 

Concealed thigh pockets allow gear access in otherwise difficult positions.

Articulated knees enhance range of motion.

A rear pocket and generous side cargo pockets store plenty of vital gear.

Adjustable cuffs seal out the elements,

Reduced-bulk design

Hip-high leg zips

Elasticized sides and back waist

Gusseted crotch

100% polyester. Machine wash.
Parka
Thinsulate™ Platinum Insulation: 150-gram through the body, 100-gram in the arms
100% windproof and waterproof but still breathable GORE-TEX shell

Aquaguard heavy-duty, water-resistant zipper

Chest and body handwarmer pockets keep digits toasty,

Detachable, drawstring hood with reinforced hood bill

Adjustable cuffs and a front storm flap seal out the elements,

Body pockets with bonded flaps, a zip interior chest pocket, and interior mesh dump pockets.

A droptail gives extra coverage against wind, rain, and snow. 

100% polyester

100% waterproof/breathable GORE-TEX shell

MT050 fabric: quiet as fleece, tough as suede

Fully sealed seams

Zip, bonded center back harness opening and license loop

100% polyester. Machine wash
Ironically, I really wanted the bibs initially, but I ended up using the parka more. The parka is very versatile, and I use it waterfowl hunting over waders into the coldest, wettest, most miserable part of the duck and goose season as well as deer season. I also wrote a review on the Cabelas GORE-TEX Wind Stopper Glomitt, the complementing gloves designed to go with this set.
Feild Performance
I was impressed by the Cabelas MT050 system from the moment I touched it. Trying it on only further affirmed it was built well and warm. In my first outing I spent the morning leaning up against a snow- and ice-covered tree that had fallen some time ago. It was cold but neither my legs nor body ever got a chill. I felt impervious to the wind and cold.
I have done several cold weather whitetail hunts with the system but I'll tell you where it has gotten more use and shined brightly is in waterfowl hunting. I have hunted ducks in much harsher conditions than I would go after deer in. Cold, blistering wind, snow, rivers so cold that the decoys froze solid in moving water at 8 degrees F. And of course days where it was just warm enough to rain and rain alot. Everytime the MT050 Whitetail Extreme performed exceptionally well. Check out my Cabelas MT050 Whitetail Extreme Parka & Bibs video review for even more info.
When I write reviews like this with products I'm very pleased with, I feel compelled to give a disclaimer that this gear is not magical. It is not life changing. It did exactly what I wanted it to do. It performs very well. But it's only clothing and you can still get cold. I found if I sweat too much and get too wet before the hunt starts, the cold will find me, especially when it is in the single digits. And if my base layers and mid layers are not equally high grade, these outer layers can only do so much. 
But they are impressive for what they are and what they cost. I have worn the parka over a dress shirt on days when its -5 degrees F to go to work and been toasty warm.  In some senses it does seem magical. But you have to do your part to control perspiration, wear good base layers, boots, gloves, etc.  
Pros & Cons
Pros
Very warm

Windproof and waterproof

Breathable

Fairly quiet

Good pockets

Built in handwarmer pockets

Can be machine washed

Excellent value

Quiet snaps for the pockets

Feels great to the touch

Great zippers
Cons
Could be more rugged

Not full-length zippers on the Bibs

Handwarmer pockets are not at ideal places for me
Final Analysis
I am a big proponent of this bibs and parka set. If you can buy the MT050 on sale, I think it is the best value on the market. At full price, I would be tempted to go with the First Lite Sanctuary. But on sale at $200 or less, the Cabela's MT050 Bibs and Cabela's MT050 Parka are unmatched.  And I do like the pattern.
When it comes to performance, the MT050 really impressed me, and I think it will impress you if you have realistic expectations. Is it the best bibs and parka set on the market? No, certainly not. But I do think it is the best for the money, when it's on sale. As is the story with all gear. No matter what you are looking for, you can always find something better if you are willing to keep spending more and more. 
Everyone needs to make their decisions about what their budget is and then look for the best gear options they can at that budget level. And these really hit the spot for me. For some people even $200 for each piece is too high, and I get that. But I learned the hard way that I needed to spend more to get more because my cheap gear just was not doing it for me.
I do think I've made my money back on doctor bills not incurred from getting too cold. So for me it was a great investment that has lasted several seasons so far and I expect many more to come.
Be sure to listen to The New Hunters Guide Podcast and check us out on YouTube. 
Till next time. God bless you, and go get em in the woods!
George Konetes Ph.D. – Founder and Host of the New Hunters Guide.
The New Hunters Guide is simply what George wishes he would have had when learning how to hunt; a single place to get practical hands on knowledge about different kinds of hunting, gear, strategy, and tips that can improve your comfort and fun factor in the woods.