Every now and then you find the perfect balance of cost and performance, the Cabela's GORE-TEX Infinium Windstopper Glomitts are just that. In fact, I believe these are the best value in cold weather hunting gloves on the market. Windproof, water resistant, and insulated with zoned Thinsulate these gloves/mitts are rich on performance but modest on cost. Performing nearly as well as gloves that cost two-three times as much, they work great for deer hunting, turkey hunting, waterfowl, and so much more.
This review is not sponsored, I bought these gloves with my own money.
What Makes Great Hunting Gloves
A few years back I was in serious need of some quality gloves, in fact cold weather hand ware was the weakest link in my hunting gear. I set out to research the best gloves on the market and figure out what made a great glove in order to determine what I was willing to pay for.  I identified 9 core features that I would measure hunting gloves by:
Wind Resistance. If my gloves were made of the warmest material on the planet but if the wind cut through them, they would be useless before long. Good, late season, cold weather gloves have to be windproof. For me it is nonnegotiable.
Water Resistance. Snow and rain happen in the woods for deer, ducks turkeys and anything else. Good hand ware needs to be water resistant. Waterproof is too much to ask because it comes at the cost of reduced dexterity, but good gloves need to be able to shed water.  
Insulation. Gloves need to be warm, and they need to retain warmth when wet from sweat, rain, or anything else. Something like Thinsulate, Primaloft, or treated goose down is needed to added low bulk warmth to late season gloves. Check out my podcast episode on Making Sense of Insulation for Hunting Gear to get more info.
Versatility. They make some amazing beaver skin mittens that work great down to -50 degrees, but you can't pull a trigger with them on or grab a call. Quality hunting gloves need to be versatile, enabling you to do all the things that hunting requires without having to take them off. Glomitts provide the best of both worlds because you can have the extra warm of mitts with the finger function of gloves at a moment's notice.
Quiet. If moving your hands to shoot makes enough noise to spook your target, then your gloves become a liability. Completely silence is a bit much to ask if you need wind resistance, but the gloves have to quiet enough to archery hunt with.
Durability. Great performance and value do not matter if your gloves do not make it through a season. Quality hand ware has to perform at peak level for years under average conditions to be worth any investment.
Hand warmer Compatibility. No gloves can keep you warm all day long while sitting motionless in blistering cold alone. Using hand warmer packs for the coldest days is a must, and the perfect gloves will enable those to be included one way or another. Glove mitts are perfect for this, the mitt flap is the best place ever to slide some HotHands.
Layering Options. Ideal late season gloves will give the option to wear a pair of liner gloves underneath to add even more warmth for the coldest days. Gomitts are great for this as long as you get the proper size, this way your fingers are always covered with something, and the rest of your hand can be extra toasty. For more check out my video 7 Tips to Stay Warm on Super Cold Hunts.
Price. There are no two ways about it, price matters. The best gloves on earth are of no use if they are not affordable. But then there is also a difference between affordable and practical. Given enough time I could save enough money to buy almost any glove, but does the cost justify the price? Or is it more practical to get something cheaper that is almost as good. That is where these glomitts shine brightly.
How the GORE-TEX Wind Stopper Glomitts Compare
After doing all of my research of all the top gloves on the market through the lens of these 9 core features I ended up with three finalists.
My final conclusion was that the Sitka Flip Mitts were indeed best in almost every way, but only a little better than the others. For the price, they were not 3x better than the Cabela's.  I judged the First Lite Trigger Mitts as the warmest, but they lacked dexterity, and the trigger finger was just too bulky for my comfort and shooting preferences. Using game calls and operating zippers wouldn't be practical and they had a hefty price tag as well.
The Cabela's Glomitts made the top 3 list and were very close in the running with the others. The fact that they were so good and are only $50 made the final decision easy. Are they the best cold weather hunting gloves on the market? No. But they are the best gloves for the money, for me at least. 
Functionally speaking, I personally could not justify paying 300% more for gloves that were only a little better than the Cabela's at my current budget level. I was impressed with these Cabela's Glomitts and their modest price tag so I bought them with my own money, but how would they perform in the field?
Features
The GORE-TEX Winstopper Glomitts are part of Cabela's highest line of cold weather gloves. They are the complementing handware for the Cabelas MT050 Whitetail Extreme GORE-TEX Parka & Bibs, you can see my review on those as well.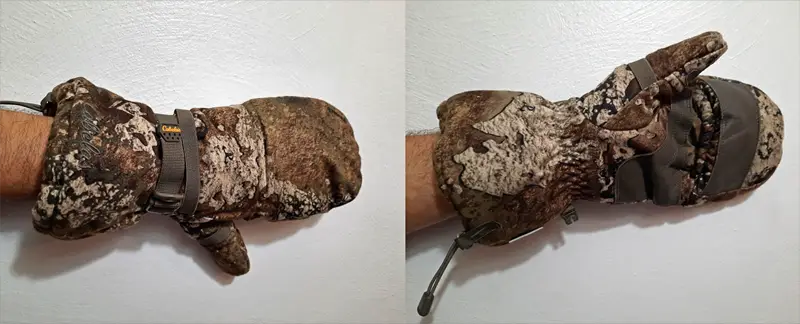 Polyester shell with premium leather palms and thumb overlays for better grip

Water resistant but breathable material

Adjustable wrist webbing with tension lock on the back

Soft, smooth, brushed-tricot lining enhances comfort and ensures easy on/off

Machine washable

Two camouflage patterns to choose from

100% windproof, water-resistant GORE-TEX INFINIUM WINDSTOPPER fabric

Zoned Thinsulate Insulation: 160-gram on palms, 320-gram on back of hands

The warmth of mittens and the dexterity of gloves

Half-finger construction with foldover hood and thumbs
My Field Experience
I have used the Cabela's Glomitts for hunting deer, turkey, ducks, geese, and more over several seasons. I have used them in wind, rain, and snow. I have machine washed and dried them many times. In terms of wear and tear they look only moderately used. In terms of function, they are still perfect. I would recommend ordering perhaps a size larger than you typically wear so you have room for liner gloves underneath.  
These gloves have done everything I wanted them to do and under all conditions. Are they perfect? No. When it rains water eventually gets into the openings as you might expect. When the sits are long and cold, I need to use heating packs to make it through the day, and every now and then I struggle to get the mitt open in time to get a shot at a fast-passing bird. They aren't magic. They are just great performing cold weather gloves at a price point that I am happy to pay.
I will vouch though and say that when it's bitter cold and windy I will use a liner glove and a heat pack in the mitt, and these things perform amazingly well. They are leaps and bounds better than anything I had used for years prior. Also check out my podcast episode on Everything You Need To Know About Hand Warmers.
Pros & Cons
Pros
Very warm

Wind proof

Water resistant

Looks great

Covers your wrist and forearm 

Easy to flip open with one hand

Nice and quiet

Very comfortable

Cost effective
Cons
Leaks a little for obvious reasons

The flap on the glomitt does not secure that easily, a magnet would have been better

They come well fitted, order a size bigger to fit a liner glove
Final Analysis
I was very happy this purchase, and very happy that these gloves continue to perform season after season. Not everyone loves glove/mitt style hand ware. If you don't then you don't. But I think the Cabela's GORE-TEX Windstopper Glomitts are a piece of gear that every new and experienced hunter alike should have. These things perform very well and nothing I have found yet can compare with them for $50.
Be sure to listen to The New Hunters Guide Podcast, and check us out on YouTube. 
Till next time. God bless you, and go get em in the woods!
George Konetes Ph.D. – Founder and Host of the New Hunters Guide.
The New Hunters Guide is simply what George wishes he would have had when learning how to hunt; a single place to get practical hands on knowledge about different kinds of hunting, gear, strategy, and tips that can improve your comfort and fun factor in the woods.