My big regret with the Mossberg 940 Pro Turkey is not getting one sooner. This shotgun won the Caliber Award for "Best New Shotgun" of the year and sold out. Mossberg could not make them fast enough. Why was it such a big hit? I will answer that question in depth in this review as well as the pros and cons from my field trials and pattern testing, but the short answer is that this shotgun is the perfect combination of performance, features, reliability, and price point.
Is the 940 Pro Turkey the greatest turkey hunting shotgun ever made? No. But I think it is the best gun you can get for the money.  It will not be the best fit for all turkey hunters due to different people valuing different features and it certainly has a few weak points. But Mossberg did not build this shotgun to compete with high end European sporting guns, they built it to be a rugged workhorse that you are not afraid to drag into the woods in all-weather looking for spring gobblers.
This is a turkey hunter's shotgun, and this review is written by a turkey hunter.
Why This Turkey Hunting Shotgun?
My journey toward the Mossberg 940 Pro Turkey started with a decision to buy the Mossberg 940 Pro Waterfowl. For years I had been using a Mossberg 930 to great effect for hunting everything under the sun, from turkeys to ducks to pheasants, crows, and more. But in time I reached the point where I hungered to have a gun setup specifically for wing shooting and another specifically setup for turkey hunting.  When the 940 Pro line was launched, the path forward was obvious.
I wanted an upgrade from the 930 but I wanted to keep the same controls, mechanism, and feel so I could shoot the guns interchangeably and have the old 930 as a backup gun. Mossberg read my mind. I scoured the market and could not find anything better for the money and my preferences than the 940. I got the 940 Pro Waterfowl first, and eventually wrote this article: Mossberg 940 Pro Waterfowl Review | Tested vs. 930. I knew instantly I needed to get the 940 Pro Turkey also.
I am not a Mossberg junky with a safe full of their guns, but I am a huge fan of the 930 and now the 940. When people ask what the biggest competitor to the 940 Pro Turkey is, I am not able to name a close second in the same price bracket. I am not aware of anyone that gives you the same features and performance for the money.
940 Pro Turkey Features
Below you will find the obligatory list of features that the unwritten laws of reviews compel me to include. But first, the big stories here are the reliability, the optics options, the turkey choke, and then the creature comforts and cosmetics.
Reliability: Mossberg redesigned the gas system for the 940 Pro to be able to go 1,500 shells between cleanings. Most turkey hunters will never shoot that many shells over the lifetime of any dedicated turkey gun, so gunking up should never be a problem. Thus far, this gun has fired everything I've put in it, cycled perfectly and without one malfunction. Its reliability is excellent.
Optics: The stock fiber optic front bead works great, its perfect for turkey hunting. But this gun stands out because it comes with a removable plate that enables you to mount a recessed Shield RMSc-pattern micro dot sight with two screws. You could add a rail and use a scope, but the red dot just drops in, the gun is made for it. The sight sits down inside of the receiver which keeps it low profile, close to the gun, and still enables you to use the stock sights if needed. I'll share more about the Holosun 507k X2 Red Dot that I mounted on the gun shortly.
Choke: Mossberg equips this shotgun with their X-Factor XX-Full Turkey Choke, which is a serious choke tube. This is not just any old factory choke. It competes with the best chokes in the industry, including those with tighter constriction and fancier marketing. You will see the specifics in a later section when I talk about my test data. But do not assume you will need to buy another choke to get the most out of this gun. The X-Factor may be all you need.
Full Features List
12 Gauge 2 ¾" & 3"

Optic-Ready

Drilled and Tapped Receiver

Clean-running Gas-vent System

Quick-empty Magazine Release

Adjustable Length of Pull

Self-Draining Stock

Oversized Charging Handle

Cut Out Loading Port

HIVIZ CompSight Fiber Optic Sight

Barrel Length 24″ or 18.5″

Mossy Oak – Greenleaf Camo Finish

X-Factor XX-Full Turkey Choke Tube, Constriction: 0.670

4+1 Capacity, comes with a removable plug to 2+1

Synthetic Stock with Adjustable Length of Pull, Cast, and Drop

Weighs 7.5 lbs.
Holosun 507k X2 Red Dot Review
Why did I pick this red dot? Well, I asked someone I know that hunts turkeys with this shotgun for a few recommendations for optics and they wrote back with just one, the Holosun 507k X2 Red Dot. Knowing them, that was all I needed. So, I went straight for 507k. This optic has really shown itself to be superb. First, it fits perfectly, like it was milled just for this gun. I am pretty sure you can remove it and put it back on later without losing your zero, it's that precise.
The 507k was actually designed for concealed carry pistol applications which means it is rugged, dependable, and very small. It is about 1 inch wide, 1.6 inches long, and once mounted is about an inch high. I couldn't beleive how small it was when I opened the box. It is a strong, solid, tiny piece of equipment that takes this shotgun to the next level.
It is crystal clear and has an adjustable reticle. You want a red dot? No problem. You want a circle with crosshair outline, no problem. You want a circle with crosshair outline with a red dot in the middle, just click the button again. It is that easy. 

The 507k has adjustable brightness and perfect clarity under all lighting conditions that I've yet seen. The battery is rated for 50,000 hours and it has an adjustable auto shutoff feature with shake awake. That means after the amount of time you set, it turns off, but as soon as you move the gun it kicks back on. You can of course manually turn the sight off as well. And it has adjustable brightness. You can set this thing up an impressible number of ways and adjusting the zero is very fast and easy.
Is the Holosun 507k X2 Red Dot the best optic on the market? I don't know. There are alot of good optics on the market. But I am not sure how anyone else could make one better than this for turkey hunting. 
The Case For Optics
Opinion is somewhat split on the need to use optics for turkey hunting. I think it is obvious that you do not need one, but you may be greatly helped by using one. There are numerous reasons but there is one big one that becomes more and more evident to me the further I go as a hunter and wing shooter.
Proper aim is contingent on shotgun fit and mounting the shotgun the same way every single time. Change your shooting position a little and you change where your pattern goes. There is a lot to say about this topic, check out my article How To Fit A Shotgun To You for more.
This does not matter as much with big 30″ patterns at 40 yards, but when it comes to turkey hunting and 10″ patterns, you can totally miss a bird simply because you are not holding the shotgun the way you normally do. And most turkey hunting occurs while sitting on the ground, in any number of positions that can compromise your aim.
Having a red dot or even a low power scope can help fix that problem. If you can put the dot or the crosshairs on the turkey then your odds of connecting are very good, even if your shotting position is off by a little. Optics can also help in low light, aid in approximating range, and give you the ability to perfectly sight in your preferred choke and turkey load. Mossberg essentially built the 940 Pro Turkey around the optic because it is often seen as one of the most important parts of a dedicated turkey shotgun.
Pros & Cons
The 940 Pro Turkey clearly shines in many areas, most of which I have already addressed at length but here is the simplified list.
Pros
Very reliable

Short barrel options 

Very ergonomic

Fully adjustable stock

Easy to load and operate

Weather resistant

The recessed optic capability

Quality choke

Excellent trigger

Good value for the money
Cons
Like most camo paint jobs, this one can easily scratch off.

Will not accept 3.5″ shells. However, I personally am not in favor of 3.5″ shells, to the point where I did a video titled Why You Should NOT Hunt With 3.5″ Shotgun Shells,

so this is not a con for me, but it will be for some people.

The front sling mount swivel does not feel as sturdy as it should. Mine feels like it might pull out at some point. This is cheap and easy to fix, I've had to do it with other shotguns, but this is a dumb weak point to have. 
Test Results
Like I previously said, I did not just unbox this shotgun and review it. I have done tests, drills, and patterning with it. Here is the performance I got from the first few turkey loads that I tested including the Winchester Long Beard XR, Winchester Super X Turkey, and Remington Nitro Turkey. It is typical that the Long Beard is so much better than the other lead loads, which is why I did this full-length article just on that ammunition: Winchester Long Beard XR Review.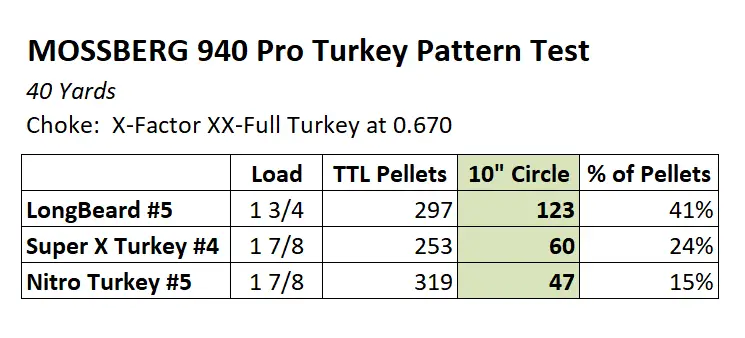 I did some other shooting drills with it, including what I call the running turkey drill, that simulates shooting at a bird three times that is running away from you after missing the first shot because it was too close and your pattern too tight! I also did a six-shot point and shoot drill with reload to see how easily the gun points and how accurate you can be with a red dot when shooting quickly. I will release and post a video of those drills soon, but in short, the shotgun performed exceptionally well. 
I also tested several of the best choke tubes on the market with the Mossberg 940 Pro Waterfowl including the Muller UFO choke and the Carlsons Longbeard choke. To my surprise, at 40 yards the stock X-Factor XX-Full Turkey Choke had the tightest pattern. I was fairly impressed at the performance, and I am very glad that the gun is sold with a very capable turkey choke. This was all done with lead shot, TSS brings another dimension to the equation, for more check out my podcast episode: Should You Hunt Turkeys With Tungsten Shot?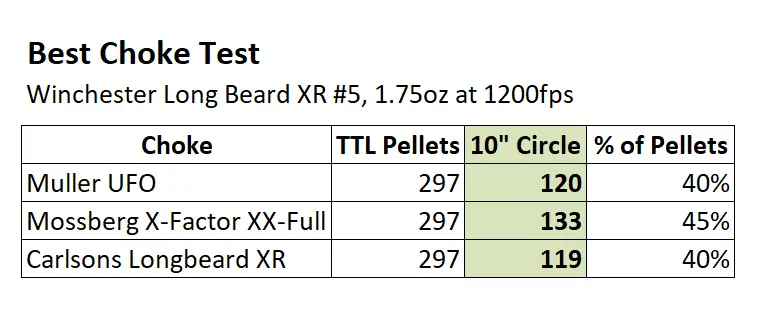 A Good All-Purpose Shotgun?
Tests provide tangible data but there are also intangibles that are very important, such as balance, feel, swing, ergonomics, etc. Often firearms sound good on paper and then in the hand they are sorely lacking. That is not the case with this semi-automatic shotgun. Now, feel is a subjective thing by its very nature. What feels good to one hunter may not feel good to another. So take this part of the review with a grain of salt.
In my hands this gun feels perfect. The fore-end stock is the perfect size, shape, and thickness for my hand, everything lines up good, and there is no undesirable bulk anywhere. It points very naturally and has very nice balance with the 24″ barrel that I tested.  I will not likely be taking any arial shots, but I would have complete confidence in the gun if I wanted to. They built this gun on the 940 platform, which was first and foremost for flying targets, so it is built and balanced very nicely. It is better than you would expect for a turkey hunting shotgun.
If you wanted to buy this as a multipurpose shotgun, you could certainly hunt turkeys with it all season long then change your choke and optic and go ahead and hunt ducks, pheasants, etc. That isn't why I bought it, but the gun feels good in the hand and would do just great for wing shooting as well. I do not think the 24″ barrel would be any handicap for arial targets. The 18.5″ barreled version may not be as good as an all-purpose hunting shotgun, by the 24″ should do any job you want it to.  Alternatively, you could just buy a longer barrel to use for other types of hunting if that was your goal. Here is the video review I also did on this shotgun:
Conclusions & Recommendations
The Mossberg 940 Pro Turkey is a shotgun that comes built to be a turkey hunter's best friend. Solid construction, smart controls, great balance, and perfect features made this my top choice when looking for a dedicated turkey gun. And the cons are minimal.
As of this review the shotgun has an MSRP of $1189 and I have seen it for sale at store prices as low as $850. You can certainly get a cheaper turkey hunting shotgun, but you can't get everything the 940 Pro Turkey has for less. It is a great gun; I highly recommend it.  
Be sure to listen to The New Hunters Guide Podcast, and check us out on YouTube. 
Till next time. God bless you, and go get em in the woods!
George Konetes Ph.D. – Founder and Host of the New Hunters Guide.
The New Hunters Guide is simply what George wishes he would have had when learning how to hunt; a single place to get practical hands on knowledge about different kinds of hunting, gear, strategy, and tips that can improve your comfort and fun factor in the woods.
As a note, I have a media relationship with Mossberg, where they will loan me guns to test and review and give me the option to return them or purchase them afterward, also Holosun sent me the optic at my request after I researched and determined this is the one I wanted to test, thanks to them for their support.