Very rarely do you come across something that is really innovative in the hunting industry. When I first saw the TideWe See Through Hunting Ground Blind I thought it was too good to be true. How could you really see through a blind that appeared solid from the outside while maintaining any durability at all? Well, TideWe found a way.
This thing is impressive all the way around. It really has no major weaknesses. Even the things I was the most skeptical about, are now areas I am fairly impressed with. This blind may not be for everyone, but it is certainly for most people, including me. It is perfect for deer hunting, turkey hunting, and I am sure much more.
I had been watching and thinking about these see through blinds for a year or two, slowing warming up to the idea of giving them a try. One of my older large, rugged year-round hunting blinds was wearing out and needed replaced so I decided this was the right time to give it a try. And I am very glad I did!
Can You Really See Through This Blind?
So, the obvious question is can you really see through the blind? Does it work like the marketing says it does? Well, surprising, yes. It really is see through on three entire sides from top to bottom. But it is not crystal clear "see through", it is very similar to closing the mess on a regular hunting blind and looking through that, except the whole blind is that mesh.
The blind does have windows which so easily slide open up and down so you can have a clear unobstructed view and shooting window. The slides for the mesh around the windows are really good quality and well designed. They work better and are more durable than on other blinds I have used. Opening and closing the windows is great. I did hunt with the windows open, but I wanted a crystal-clear view and wanted to be able to see some distance.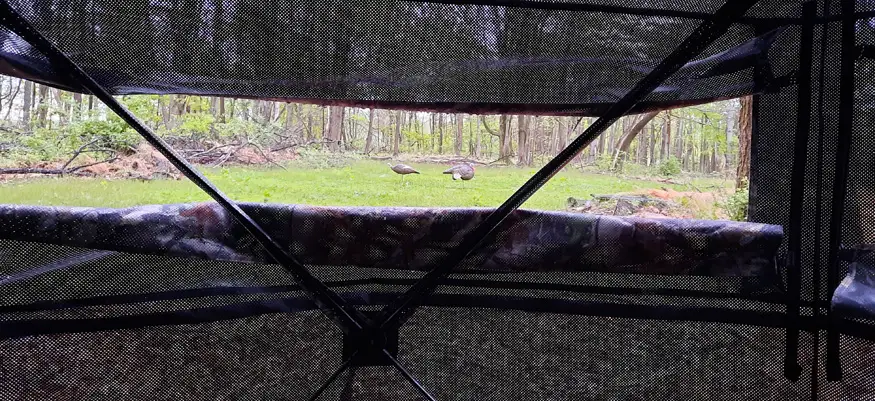 Is the blind really a solid shape from the outside? Yes and very yes. It looks just as firm and solid as the old solid wall hunting blind that it replaced. If you are more than a foot or two away, this blind looks very solid. From a few yards back, it is like a wall. When I showed it to people they could not believe how clear it looks from the inside while appearing completely solid from the outside.
Can You Shoot Through It? 
Could you shoot through the mesh walls or window panels? I think so. In fact, normally when I'm hunting deer, I leave the mesh on a blind closed and shoot through it, even with a bow. I think you could do that with this TideWe blind just fine, and if the deer or turkey is within archery range, you will be able to see them very clearly and can shoot right through the mesh. Here is a review of the Rage Hypodermic Broadheads I normally use when shooting through mesh.
I was hunting with a gun and wanted to be able to see further so I opened the mesh on every hunt this past season. I also did not want to shoot a hole in the window mesh of my beautiful new ground blind. The window mesh is the same material the walls of the blind are made of. 
What is so great is that you open your windows slightly so you can see and shoot far, but then you can still see all the way around you because the blind is see through. So many times, I have had a deer or a turkey in my blind spot, sometimes just a few feet away and could not see it. I waited and waited for a look and then either it walked off or did not cross into my field of view long enough to make a decision and take a shot. With this blind I can see the animals sooner and even shoot right through the blind if I want to.
So how does the see through effect work? It must be some kind of optical illusion impacted by how close you are to the fabric along with the relative darkness in the blind vs. light outside. I don't really know, but that is my best guess. But even cameras do show it as clear. A still photo shows it as much less clear than the human eye does, that is for sure. The see through effect is much more impressive in person but it still shows up via photo somewhat.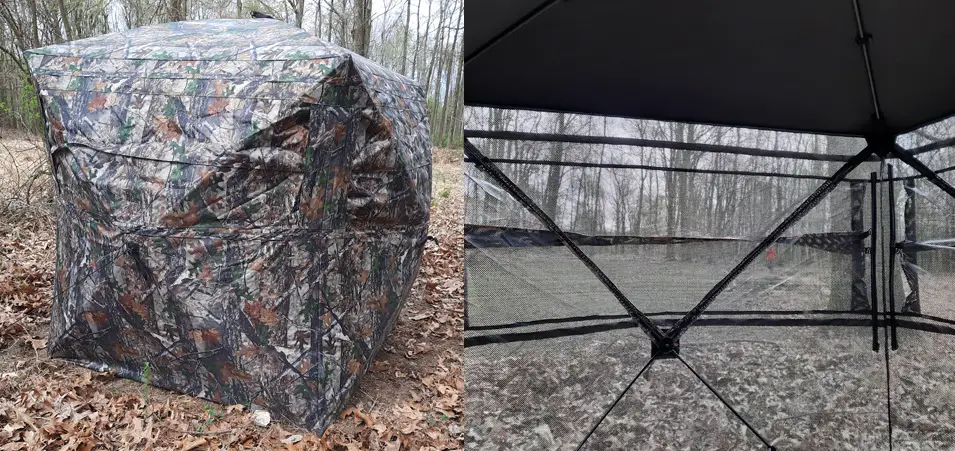 Does it really work? Yes. Can you shoot through it? Yes. Is it magically crystal clear enabling you to see and shoot 100+ yards, no its not that good. 
How Deer & Turkey Perceive It
Sure, the TideWe See Through Hunting Blind looks perfectly solid and concealing to people, but what do animals think? That is all the matters after all. Well, I had deer and turkeys within a few feet of me multiple times. Neither had any idea I was there. Eventually some of the deer did sniff me out and get spooked, but that will happen when they walk all the way around you feeding. No hunting blind will stop that, nor is it a reasonable expectation. I do not think this blind created any disadvantage when it comes to scent control. I could have easily shot those same deer multiple times before they winded me.
The turkeys cared less than the deer, in fact I sat there watching turkeys feed, scratch, and preen for the better part of an hour before they finally moved along. I even sat there and called to them some and they were not at all alarmed. I was perfectly concealed, even with the mesh windows open.
A personal note here, most people wear back inside a hunting blind. I wear camo with a loose camo mesh face mask. I think it provides concealment that is just as good as black if not better when you are dealing with mesh. And I never know when I may opt to leave the blind to hunt on foot and value that flexibility. I've never had an animal spooked by wearing camo inside of a camo blind. And with this blind, wearing camo inside feels all the more appropriate. Here is a podcast episode I did on When Ground Blinds Are Great For Deer Hunting.
Setup & Durability
I find that pop up hunting blinds are like consumable products. They have a shelf life. Not that they spoil or rot, but they are kind of like a cell phone, they only last for so long. And a 2–3-year service life is about all you can expect because they are seemingly designed to begin to fail at that point.
In my own experience I find I do more damage to the blind by setting it up and taking it down than if I just leave it up year-round. Half of my blinds have been damaged or broken during setup or take down. That is when there is a lot of stress placed on the joints, rods, and fabric. I have been through some of the toughest hunting blinds on the market, and I'll probably start building my own wooden ones eventually. But very few blinds are what I would consider very durable and can be setup without risk of damage.
To my great surprise, this TideWe see through hunting blind is among the toughest blinds I have used. The setup is also among the easiest and I never felt like I was going to break it. Not something I can say about some of the blinds on the market that build their brand around how tough they are. The perforated mesh fabric is very thick and robust.
Now I have not left this blind in the woods for a few straight years yet, but once I do, I'll come back and edit this post to let you know how it is doing. TideWe does not recommend doing that, no one does, except a company I once spoke with at a convention that said they left one of their blinds in a field for five years and it never faded. I bought one, and it faded faster than any blind I've ever had! It was white within a year! I am sure the TideWe will do better than that. 
Like all quality ground blinds this one comes with stakes and tie down cords so you can anchor the blind at about 8 points with the ground. And I can say that it is very tolerant of bad weather. I hunted though some pretty heavy rain and was totally dry. Likewise, no windstorms caused any concerns, damage, or even slack in the cords. I was expecting this blind to be a flimsy vanity piece but it is strong, durable, and holds up really well. This was the greatest surprise in my book. This thing will definitely help you put venison in your freezer. And along those lines, here is a helpful video I did on 10 Reasons Deer Meat Tastes Bad & How To Fix It
Size, Noise, & Pricing
According to TideWe, the dimensions of this blind are as follows: Height: 65″, Hub to Hub: 75″x75″, Floor Space: 58″x58″ This design allows you to comfortably accommodate two or three hunters. I did not measure the blind, but I feel confident it is sized properly. However, like all ground blinds, if you want to know how many people will really fit inside, take the number of people it is rated for and subtract one.  So, this is really a 1-2 person blind.
As a solo hunter, I had all the room in the world. Room for gear, backpacks, calls, etc., and plenty of room to use a long gun. It was just the way I like it. It could comfortably accommodate another hunter, but not two more. The only way to fit three people is if they are children. But this is true across the entire hunting blind industry. Every company overestimates this.
The blind is also surprisingly quite. I am not fan at all of a zippered door, but this zipper is quite quiet if you open and close it slowly. Much quieter than my zippered door blind this TideWe is replacing.  The windows is where it works great, you can open them without hardly any sound at all. They are exactly what I like, and you can open and close them easily from inside and outside of the blind.
The TideWe See Through Hunting Ground Blind retails for $239.99 but TideWe seems to always have it on sale on their website. Its normally available for around $160. Sometimes less. I requested a special discount code for my readers so you can save 18% off even sale prices if you use my code GK18 at checkout on TideWe's website. 
Final Analysis 
I really am impressed with this hunting blind. The see through effect is a great feature, but it is also just a really solid and well-constructed hunting blind. It is smartly designed and good quality. Is the see through effect an amazing life changing feature? No, but it is helpful and makes the hunting experience more enjoyable and effective. I would not hesitate to get one of these, in fact I may end up getting another one or two because of how much I like it compared to other similarly priced blinds on the market. 
Be sure to listen to The New Hunters Guide Podcast and check us out on YouTube. 
Till next time. God bless you, and go get em in the woods!
George Konetes Ph.D. – Founder and Host of the New Hunters Guide.
The New Hunters Guide is simply what George wishes he would have had when learning how to hunt; a single place to get practical hands on knowledge about different kinds of hunting, gear, strategy, and tips that can improve your comfort and fun factor in the woods.