I have accumulated and worn a lot of base layers from synthetics to merino wool and I think the First Like Kiln 250 is the single best base layer I have ever used. I have some heavier base layers and some lighter ones, all of which have their place when they are the ideal choice for that day. But the Kiln is the most versatile and usable on the most days under the most conditions, making it perhaps the most important and thus best base layer in my collection.
I have hunted with the Kiln Crew and Kiln Long John across multiple seasons. I have use them on cold days, warm days, dry days, and wet days. Hunts where I sat still in a blind the entire time, and hunts where I was on the move most of the day. I have worn them to camp and lived in them almost nonstop for three straight days and nights. I ate, drank, cooked, cleaned, slept, and hunted in them for days. All that to say, I have done far more than just try them on at a store and then presume to do a review on them. I have put some real miles on my set of Kiln's and I am here to tell you all the details. 
Why The Kiln?
The longer I hunt, the bigger a fan I become of merino wool for most base layers, (more about that later), and I eventually ended up getting the First Lite Furnace 350 for ultra cold weather hunting. I did a full review on the Furnace 350 as well. I really liked the Furnace a lot, but I wished I had something lighter that I could use in more typical hunting conditions. The Kiln 250 is exactly that. 
So about a year after I purchased the Furnace, I bought the First Lite Kiln also, with my own money. I have similar weight synthetic base layers from high dollar brands as well, but I wanted the Kiln because it is merino wool and I find First Lite is leading the industry for merino wool hunting gear in most areas. I find the Kiln is good for just about all hunting between 30-60 degrees Fahrenheit.  First Lite rates it at being capable down a few degrees colder than that and it is, if you are moving.
But I should note that this base layer is not very bulky, and it can be worn with another layer over top of it, even the First Lite Furnace. If it is cold enough and you are sitting still, you could easily wear the Kiln 250 with the Furnace 350 over top as a mid-layer, and I have indeed done it. That totals 600 g/cc of merino wool, and it's still not bulky enough to cause any hindrance. 
But where the Kiln shines brightest is as an all-purpose all weather merino base layer. That is why I wanted it, and it performs that role exceptionally well. 
Merino Wool Overview
Merino wool isn't magic, it is just an ideal material for base layers. It is simply the wool of the merino sheep. But God designed these sheep with wool perfectly adapted to their needs. This wool has finer fibers than most common wool. This gives it several unique advantages:
The finer fibers make merino wool less itchy, so it can comfortably be worn as a base layer. Regular wool is not comfortable enough to be worn next to skin in most cases.

These fibers enable the wool to take up less volume for the same amount of weight. Which means a 250 weight garment can be thin enough for an ideal base layer whereas a shirt of similar weight regular wool would be more akin to a sweater. So you get the same amount of warmth that bulkier wool would provide but in a much smaller package. 

The fine fibers also enable merino wool to wick moisture away and evaporate it faster than regular wool which tends to hold on to moisture. This enables these base layers to dry much faster.
Like all wool, merino is also odor resistant due to anti-microbial properties. In short it is less prone to stink during a long hunt, weekend, or over the course of years, where synthetic layers are more likely to pick up odors over their service life.
Wool is also thermally regulating, which means it helps you remain comfortable across a wide range of temperatures. These sheep were designed to stay warm on fridged nights while not overheating on warm days.
And like all wool, merino retains the majority of its insulative properties when wet, so it keeps you warmer even if you get saturated. Here is a video I did going into a little bit more depth on merino wool.
Features & Specs
Merino Benefits – The Kiln is essentially First Lite's merino wool flagship garment. They leverage all the benefits of merino that I just spoke about to create the best base layer possible. It is warm, even when wet, thermally regulating, good for sitting or hiking, fast drying, and substantial enough to help you weather significant cold without adding bulk. It is the best-case scenario of all the merino wool base layers I have owned and seen.
Composition & Comforts – These are 95% merino wool and 5% spandex. You are getting what you pay for, unlike with some other brands that are only half wool for the same cost. But not all merino is created equal. The way these are woven and built makes them the most comfortable merino garments I've ever seen. They fit so nicely, so soft, they feel like they disappear after you put them on and get outside, despite being so substantial. 
Weight & Durability – These are both 250 weight merino, which means the weight of the fabric is 250 grams per square meter.  So for every square yard of fabric, you have around half a pound of weight. The First Like Kiln Crew weighs in at 12 ounces, and the First Lite Kiln Long John is about 10 ounces. These things are pretty durable also. They are less delicate than I was expecting for something so soft. I would not wear them as an outer layer, but mine are showing no signs of wear yet at all. 
Colors, Camo Patterns, & Versions – First Lites makes the Kiln in a variety of solid colors and camouflage patterns. You pay a little more for the patterns, but some, like the Typha look amazing. I went with conifer green to save a few dollars, but the new Tera brown looks way better. They also come as a crew, quarter zip, and hoody. I went with the crew because it seems the most intuitive for a true base layer with nothing to get in your way. But you do you.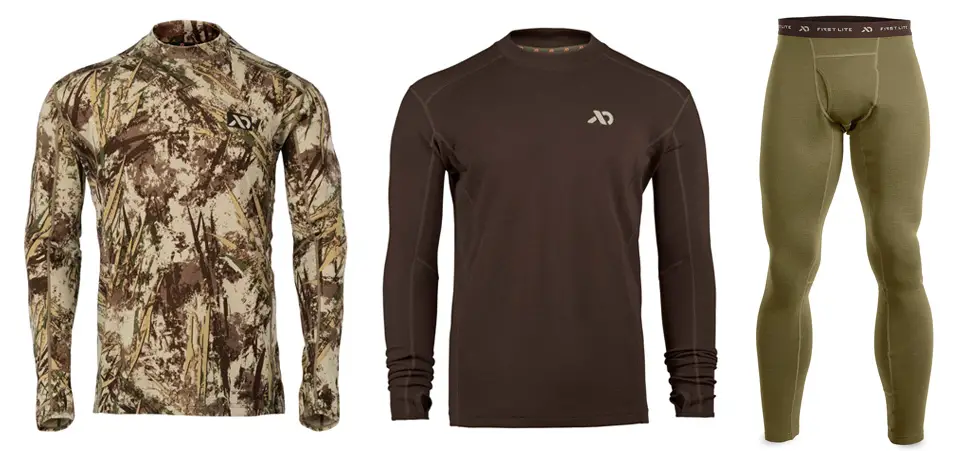 Fit & Mobility – I wear a large in pretty much everything and got a large in these and they fit perfect. Plenty of room, but not too loose either. I am a big fan of the fit. I don't like skintight base layers, and these would easily let me wear another layer under them if I wanted. I am also able to wear another layer over them. So, I call the fit perfect. The range and ease of movement is perfect. And they do not bunch up or put strain around your knees or elbows. 
For more context about how to get the right kind of gear to stay warm in the woods, check out my podcast episode: Making Sense Of Insulation For Hunting Gear.
Pros
Very warm, even when wet

Fast drying

Durable

Easy to wash and care for

Odor resistant

Perfectly sized and comfortable fit

Great color options

Does not limit mobility

Super quiet
Cons
Expensive

May have the sheepy smell when new, before washing

Do not place them in the dryer!
Care Tips
Like all merino wool gear, there is a good chance that not all of the natural oils of the wool are cleaned out thoroughly during the production process. Which means, when the garments get wet they might have a sheepy smell. This could range from barely noticeable to terrible. I was startled and confused the first time this happened to me. But it is normal, I even asked First Lite about it.
All you need to do is wash the layers, dry them, use them, and repeat. I washed them maybe 3-4 times in a row and got most of the smell out of them. Then after using and washing them a few more times, it was essentially completely gone. I have had some base layers where the bottoms were completely fine, and the top smelled really bad when wet. It is unpredictable. But all you need to do is wash them, use them, and wash them.
Caring for these is easy, wash them on cold with a mild soap and hang them up to dry. And that is it. Very easy. They hold up to washing really well too, do not hesitate to do it. Just do not put them in the drier or they will likely shrink on you. In the off season they say you can better protect them from moths by placing them in an airtight container. I have not yet done that and haven't had any issues for a few years running now.  
Are They Worth The Money?
Is the First Lite Kiln worth what they cost? As someone who has owned dozens of cheaper base layers and never been satisfied with any of them, I am going to say yes. Let's be realistic though, a full set of these is about $200. That is not cheap at all. They are among the most expensive base layers out there. But yea, I think they are worth it.
It took me about 5 years to buy other more important gear before it made sense to save up and buy these. These should not be your first base layer ever, you likely need to save your funds for other bigger hunting priorities, but eventually I think it is worth finding a place for these in your budget. I may eventually get a second pair in other colors just to wear them more when not hunting. I am very happy I have them.
Conclusion & Recommendation
Overall, I think the First Like Kiln Crew and the First Lite Kiln Long John are some of the best base layers money can buy. They are everything I wanted them to be.  They are great for hunting, hiking, and camping. Probably my first choice in base layers. They are useful for so many things in so many conditions that I think they are the best layer I have for all around use. Check out the Kiln and watch for sales. You can find them on sale a couple times a year. 
Be sure to listen to The New Hunters Guide Podcast, and check us out on YouTube. 
Till next time. God bless you, and go get em in the woods!
George Konetes Ph.D. – Founder and Host of the New Hunters Guide.
The New Hunters Guide is simply what George wishes he would have had when learning how to hunt; a single place to get practical hands on knowledge about different kinds of hunting, gear, strategy, and tips that can improve your comfort and fun factor in the woods.